New for 2011/12 - Polar Peak Lift
Thank-you to all who attended the Grand Opening Ceremonies for the new Polar Peak Lift on January 14th. The new Polar Peak Lift is now operating and we are proud of this lift as part of our salute to the 50 years of skiing in the community of Fernie, BC.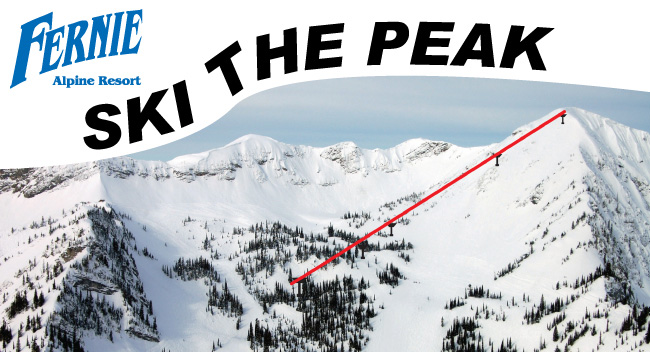 For information, please contact:

Nicole Liebermann
Email: nliebermann@skifernie.com
Phone: 250-423-2421

Please join us in celebrating 50 years of Skiing and Riding in Fernie with the NEW Polar Peak Chairlift at our Official Grand Opening Celebration!

Fernie now has the most runs and most vertical in the Rockies!

Date: Saturday, January 14, 2012

Celebration Details:

11:00 am
Ribbon Cutting and Grand Opening of the NEW Polar Peak Chairlift @ Polar Peak Chairlift Base Station

Guided Tours of the Polar Peak terrain will be available for our guests.

Please note that the terrain accessed by the Polar Peak Chairlift is suitable for advanced level skiers and snowboarders.

4:00 pm
Join us at the Griz Bar for:
- Ski the Peak Après Party
- Avalanche Awareness Days Fundraising Auction
- Live music with Shred Kelly

Avalanche Awareness Days will also be happening during the day, with great activities and events going on throughout the day.

[Video] Polar Peak First Chair @ Fernie Alpine Resort
By Mark Gallup
[Video] Fernie's New Polar Peak Lift Set to Open
"Ski the Peak" this winter at Fernie Alpine Resort on the new Polar Peak Lift!
Construction has begun on the spectacular new Polar Peak Lift. This lift will give Fernie Alpine Resort a whopping 3,550 vertical feet of Legendary Snow Fun.
Answer your questions: view the transcript of the "Live Chat" with Powder Matt that took place on Wednesday September 7, 2011.
The Polar Peak Lift adds an above tree-line Bowl skiing experience with over 22 new runs and the incredible experience of skiing off the summit of one of the highest peaks in the Lizard Range. Many will enjoy making laps of the new Polar Peak Lift, others the thigh burning fun skiing some of the longest runs in the Canadian Rockies. The addition of the new runs off Polar Peak will bring the total number of marked runs at Fernie Alpine Resort to 140 – the most Ski Runs in the Canadian Rockies!
Read the entire press release.
Click here for Latest Updates on When Lift will be Operational
Powder Matt's Polar Peak Construction Update December 25th
Powder Matt's Polar Peak Construction Update November 14th
Powder Matt's Polar Peak Construction Update October 20th
Join the Conversation
http://www.facebook.com/FernieAlpineResort

http://twitter.com/skifernie
Exciting Facts FOR FERNIE ALPINE RESORT
* Most Ski Runs in the Rockies
* Most Snow in the Rockies
* Most Vertical in the Rockies
* Only New Lift in the BC Rockies
* New Alpine Bowl Skiing Experience
Polar Peak VIDEOS
Polar Peak Slideshow